Wild pickings'
Hawthorn ketchup
Hawthorn Berries
The leaves, blossoms & berries of the hawthorn tree are all edible and have traditionally been used for the heart, circulation and blood pressure. The haws are super red & ripe at the moment, brightening up the hedgerows with their bright berries and though they don't taste of a great deal plucked straight from the tree, mashing them up seems to release their sweet starches and with a bit of kitchen alchemy they transform into a delicious ketchup which is also a great Winter tonic.
Pick over the berries, removing any bits of leaf & chunky stalks, I do this quite roughly as they will be sieved anyway.
Add the vinegar and water and gently simmer until the berries soften and the skins split - 30-45 minutes.
Strain off the vinegar liquid and put to one side.
Put the cooked berries into a sieve and using the back of the spoon work the flesh through, leaving behind any bits of stalk and the hard seed in the middle. I usually find that there is still a lot of flesh left mixed up with the seed so I add the contents of the sieve back into the vinegar mixture, muddle about for a bit, then pass back through the sieve for a second time. If you happen to have a food mill (also called a mouli) this works very well instead of a sieve.
You will need:
1kg Haw Berries
600ml Cider Vinegar
600ml Water
170g Sugar (I use coconut sugar)
Salt & Pepper (1 tsp of each)
Combine the sieved pulp and add the sugar, salt and pepper, gently heating to dissolve. Sometimes, a little later on in the season I find the haws can be quite dry and a little more vinegar and water may need to be added if the pulp mixture is too thick - it should resemble a tomato ketchup. You can also add other spices - ginger and chilli I think work particularly well.
Gently heat to boiling point, stirring the pan to stop the ketchup sticking, then pour into hot sterilised bottles (if you want them to keep for a long time unopened) or into clean bottles and store in the fridge if you are going to use quite quickly.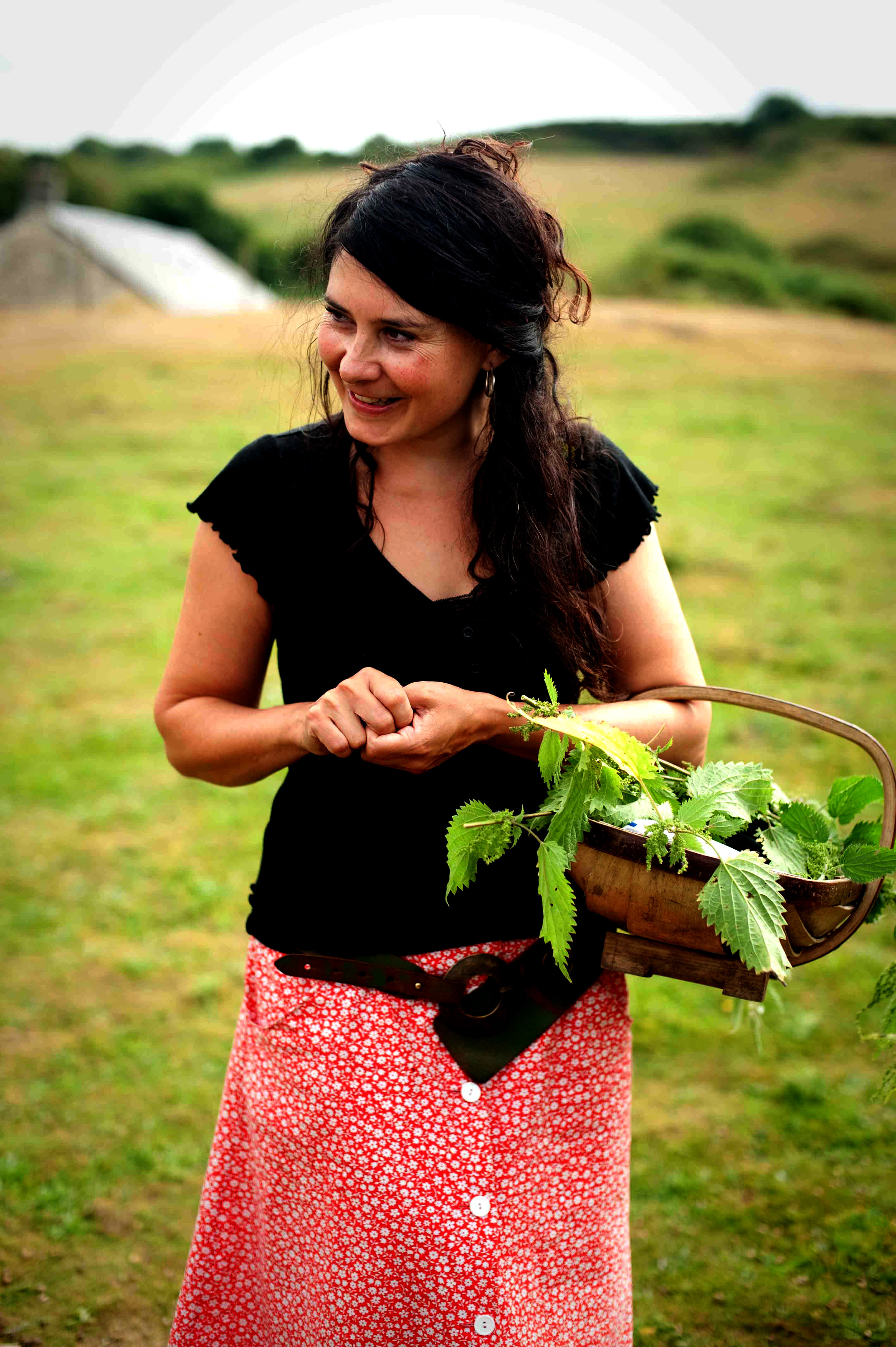 Jade Mellor has been a professional forager for over a decade, collecting wild food from the beautiful hedgerows, woodlands and coast of West Wales. Picking what is seasonally abundant, with care and sensitivity, leaving plenty to go to seed and for the birds.
She is inspired by the landscape, the changing seasons and the wild bounty of blossoms, leaves,fruits and seaweeds, which she uses to create delicious and unique food.
Jade runs seasonal walks and workshops, teaching others how to identify, gather and use wild food, with a focus on eating!