Oriel Blodau Bach
Meet the Mother and Daughter team behind Wales' smallest contemporary art gallery.
Run by writer Kirsten Hinks-Knight and artist Kathryn Campbell Dodd (daughter and mother) the space began life as a disused notice board in the middle of New Inn village near Pencader in North Carmarthenshire.
Kirsten says: "I moved into the house in 2013 and there was an old wooden notice board on
the side of the house that had become redundant and a bit unloved. A shiny new double
glazed one had been installed further down in the village some while before. We just kept
thinking that it would be great fun to show art in the old box and turn it back into something
for the community.
We finally decided to get the project underway in September 2015, and after a bit of love and
attention it was transformed in to Oriel Blodau Bach – this is our third year now and we
completely refurbished the box in April so it's ready to roll with our continuing programme
of exhibitions."
The word Blossom or Blodau has been important in the history of New Inn and there are lots of houses and local businesses with it in their name in the village. It may have its origins with the local manor house (now derelict) called Blaenblodau Hall. The gallery aims to show work from contemporary artists from Wales and beyond and the exhibition changes every 6 weeks. There has been an impressive and quite diverse range of artists and artworks shown in the space.
Kathryn says:
"I'm a practicing artist myself (I've actually shown my own work in the gallery three times now) and I know lots of other artists in the area, so it's been great to be able to offer this little space for people to show their work. We like to select artists ourselves rather than have an open submissions process and people have been incredibly generous – we do it for the love of it, so we can't pay a fee, it's just a great way to get a piece of work on display. Some people have used it in an experimental way to try something out, others have just happened to have the perfect piece to show and some people have made specific work in response to the idea of the noticeboard. It's been really good fun."

The next show in the gallery, opening on Monday 4 June, will be Jessica Dent, a new
graduate from Cardiff who uses ceramics and painting in her work.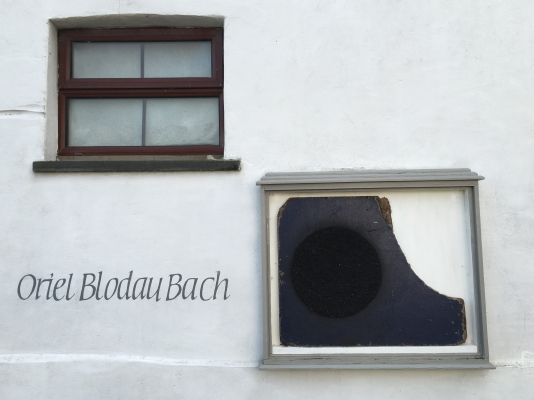 You can find Oriel Blodau Bach in New Inn about half way between Lampeter and Carmarthen on the A485 between Llanllwni and Gwyddgrug. As the gallery is out of doors it's essentially open twenty-four hours a day but visitors are asked to be respectful of the neighbours. The driveway by the gallery is always in use so please park around the corner and walk back when visiting.